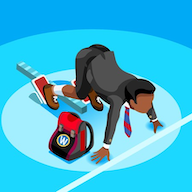 University Run: Flight of the Student
Desktop App
University Run: Flight of the Student is an exciting and challenging 2D infinite runner game set in the beautiful campus of National University of Sciences and Technology (NUST) in Pakistan.
In this game, you play as a student who is running away from an evil teacher who is chasing you on a car, intent on killing you. Your goal is to reach the finish line of your university degree, while avoiding being hit by the teacher's car and overcoming a number of obstacles in the form of homework, exams, lab equipment, and more.
It is a desktop app that runs smoothly on Windows operating systems, and is coded in C and C++ programming languages.
The gameplay of University Run: Flight of the Student is highly addictive and engaging, and will keep you entertained for hours. As you progress through the game, the obstacles become more challenging and the teacher's car moves faster, making it harder for you to avoid being hit. The game features stunning graphics and sound effects, which enhance the overall gaming experience and make it even more enjoyable.
If you are a fan of infinite runner games, then you will definitely love University Run: Flight of the Student. It is a unique game that offers a fresh and exciting take on the genre, with its setting in NUST Pakistan and its focus on the challenges faced by university students. So why not give it a try and see how far you can run?